Fun at Holbeck Gala
10th July 2019
We had a fantastic time at Holbeck Gala, enjoying the sunshine and soaking up the great atmosphere.
The group celebrating post-performance
We were delighted to see our singing group on stage performing for the first time at a public event, leading the crowds through a roster of well-known songs. Accompanied on the ukulele by leader Jess Bowie, the singers were dressed to impress in summery canary yellow outfits, with coordinated props and choreographed moves.
On stage at Holbeck Gala

Mary and Jane in Canary Yellow
The group debuted in style and we couldn't be more impressed with the stellar performance. Watch this space for future performances!
Our stall was supported by volunteers Mary, Gwyneth, Nikki, Anna, Brenda, Melvin and Jane and staff members Julie, Claire, Matthew and Bryony. Anna was on hand to provide face-painting and Julie brought in the crowds with coin toss and balance games, as well as her delicious home-made biscuits.
Jane, Mary, Brenda and Gwyneth sold hand-made beautifully-produced items made by the HEA craft group, such as hand-made cards, bags and candle holders. We were delighted to greet new sign-ups for our services as well as local people who are interested in lending a hand at HEA as volunteers.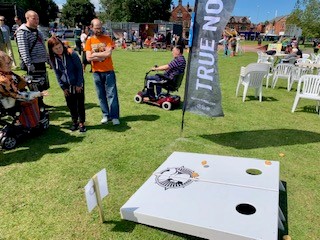 We had a great location, next door to our good friends at Northern Monk Brewery who were drawing in the crowds with their Yorkshire pudding tossing and tasty treats. There were disposable cameras on hand to capture the events and for people to get involved in our True North photography project.
We also gave people the opportunity to share their vision for St. Matthew's Community Centre, to let us know how the centre could better support the community's needs and what their personal priorities would be for the centre in the future.
Sharing ideas for St. Matthew's Community Centre
If you would like to find out more about HEA's exciting work at St. Matthew's Community Centre, are interested in getting involved in developing the space for the whole community, or would like to find out more information about the True North photography project with Northern Monk, give Bryony a call on 0113 245 5553 or pop into the HEA office.
Singers Anne, Brenda, Pat, Jane, Mary, Margaret and Marion meet every Tuesday afternoon from 2-3pm at St. Matthew's Community Centre, Holbeck. If you're interested in singing and would like to meet some new people, give us a call, drop into the HEA office or pop along to a session.
You'll also be able to get your hands on the craft-groups items at our monthly Themed Lunches, on the last Tuesday of every month 12-2pm at St. Matthew's.