Our Services
We have a busy programme of regular social and leisure activities for everyone in Holbeck.
The majority of our services take place at St Matthews Community Centre, as well as around the community.
We provide health and wellbeing support including advocacy, a digital health hub, parent and baby groups, and as well as out-of-hours meal services, evening suppers and monthly Sunday lunches.
We also provide lunches, trips and outings, craft sessions, bingo afternoons, coffee mornings and friendship groups, which are the bedrock of daily life for many of the people we support.
Our community transport service operates 7 days a week for people who are unable to get out and about independently as well as providing twice weekly shopping trips.
We also have a social supermarket, a community café, a charity shop and run activities for families over the holidays.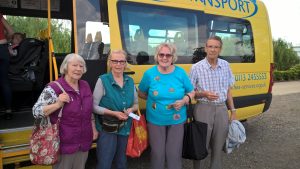 View the following pages to read about our services in more detail.
View our services
Supporters of Holbeck Together