WE HAVE MOVED We can now be found at The Old Box Office, 99 Domestic Street Holbeck
21st January 2017
Friday the 20th January saw the opening of our new office by our Patron The Right Honorable Hilary Benn MP.
  Video courtesy of Jeremy Morton of South Leeds Life.
This move has been made possible by the generosity of the Leeds Building Society in donating the building to us for five years and their contractors for donating their time and materials to turn what was a closed branch of the society into a modern public facing office for HEA in the heart of Holbeck.
Below shows the view that has greeted residents and visitors to Holbeck for a good few years.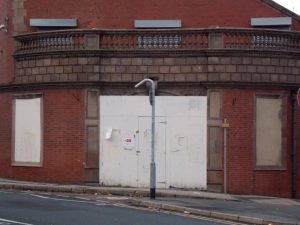 But now everyone will be greeted by our new office.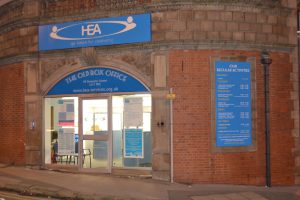 So a special thank you to:
The Leeds Building Society, Lumilow Lighting, Yess Electrical, Formm, Greens Decorators, DMS Electrical.
Walker Morris for sorting the planning.
Butterfield Signs for making us stand out.
Apologies if we have missed anyone off but we thank you too.