True North: Stories of Holbeck – Dave
21st December 2020
Dave McGreavy, 72, Holbeck Together volunteer
I started on the buses in 1967 and got driving as soon as I was 21 in '68. I did about six months conducting before going driving then met my wife – she was a conductor. We married in 1969. I know six or seven couples that met on the buses – a lot of drivers and conductors met women who were passengers and married them. The thing is a lot of people are shy, but you're already talking to people as a driver or conductor so the ice is broken and that's it. I worked with my wife for about 12 months – she was my conductor. We had a few fall-outs but it was a lot of fun. We had competitions, but we'd get in trouble for them now so I won't tell you.
I was on the buses for nearly 40 years. The buses are easier than a car to drive now – you just push a button and go. When I started they were semi-automatic but they're all completely automatic now. Once you get used to the size, how big and long it is, they're easier than a car – it's amazing. I had no problem adjusting, I'd driven since I was 17.
The hardest buses to drive are the single deckers as they're a bit wider and a bit longer. There were a lot of crashes when they switched from back-loaders to front loaders – the angle you took corners at totally changed, so a lot of people had problems!
When you first went on, you were a spare so you get to work with lots of people as a conductor and when you're sat a mealtimes, everyone would sit together in the canteen. I knew about 200 people at one time, all different crews. Once you'd been a conductor with someone you'd just get to know them.
We had some great times. Some of the things you just wouldn't believe. I've seen people run and jump to get on the bus and gone headlong into the glass of the bus stop that they haven't seen. I've seen a guy grab someone's pool cue thinking it was the bus pole. It just makes your day. In the canteen, you daren't leave anything unattended – you'd come back and it would be full of salt. It was daft but it were a laugh.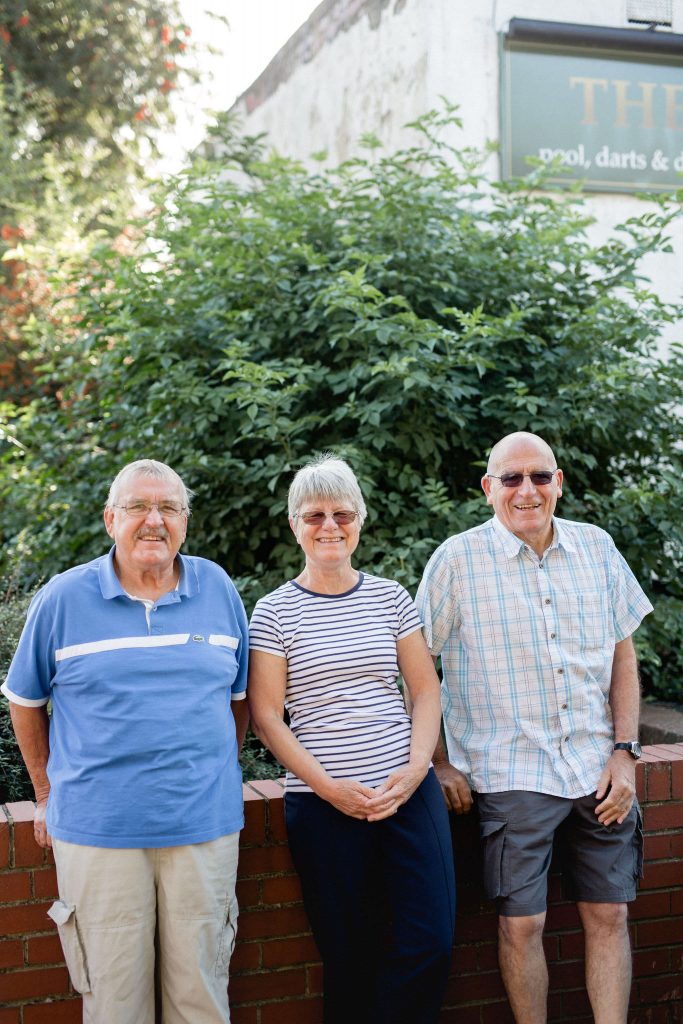 My favourite thing about driving was the freedom to be outside. I used to work in tailoring and the room we worked in made me feel like I was in a rabbit hutch with everything closing in on me – I just hated working inside. So I took a job on a building site but when they made redundancies I went on the buses for a few months and ended up staying for 40 years!
I just love driving, even today I could just go out and go anywhere. I always have done, it's never been a chore for me. I know Leeds like the back of my hand. I did nights for 15 years – picking up bus drivers for their shifts from all over the city and I just got to know the shortcuts in Leeds.
On a Friday once every six weeks, people who used to be on the buses meet up, and once a year we have a reunion for Middleton where we worked. There's still 40 to 50 people around, but of course we've reached that stage and everyone's dying. But that's just one of the facts of life.
I'm in a tenpin bowling team as well and we meet every Monday. There's four of us in the team and all of us worked on the buses. I've known two of the lads for 45 to 50 years and the other for 25. We just get on really well. It's good exercise too, as I go twice a week. Gerry and I were both on the bus football team. You'd play football at 11am on Sunday and start work at 1.
I took early retirement at 60, took my pension and then went onto the yellow school buses and did seven years. Then I needed a hip operation so I had to stop.
+++
About True North: Stories of Holbeck
True North is a collaborative project between local people, Holbeck Together, and our friends at Northern Monk Brewery, which celebrates the rich tapestry of life in Holbeck, once the epicentre of the industrial revolution.
In this blog series, we bring you the stories of the members of the Holbeck community we invited to be part of our 2020 True North calendar. You can read more about the project here.
Drawing on over 27 years of experience working in Holbeck focusing on people in later years of living, Holbeck Together's doors are now open to the whole community. Holbeck Together supports people of all ages, providing advice and advocacy services, social activities and transport options.
Working collaboratively is central to our ethos and we believe that real social change is achieved when local people, groups, organisations and businesses work together. Our partnership with Northern Monk Brewery is a fantastic example of what can be achieved when businesses and voluntary organisations work together and pool resources to achieve a shared goal.
Photography featured throughout is by Mark Newton Photography.