True North: Stories of Holbeck – Dennis
16th November 2020
Dennis Kitchen, 74, local resident
I moved into Hobeck in 1986 from Beeston – Ian and I were downsizing and found somewhere nearby. There was a residents group and we got conned into joining that!
We became involved with the Holbeck Forum which was at St. Matthew's originally and then moved across the road. It was a place for people to air their concerns and generally work to improve the area. We set up Holbeck in Bloom to brighten the area, and at one stage we tried to move into the old conservative club for the community – to keep a historic building in use and create a working base for community services.
I got involved with the Holbeck Working Men's Club in 2013. I'd been involved with setting up the Neighbourhood Plan for Holbeck and a goal was to help to redevelop Holbeck. We felt that there was no point looking to the future without also looking at the past and looking after what we've got already.
The Club was going to be closed down, so we got volunteers together and kept it going for 6/7 years. It was hard work but enjoyable because it was a place that people could come and feel safe. At the time we recognised that there were a lot of people who were isolated and needed somewhere to feel warm and welcome.
We were delighted to welcome Slunglow to the Holbeck. I'm still on the management team and the club is still owned by the members but Slunglow are managing the bar and the accounts. They really came in at the right time to support us and they've enabled the club to finally be totally debt-free which is great. It was a burden for the club for a long time and it's finally free.
The members have accepted new people coming in and we're all comfortable together. A lot of people who work behind the bar are connected to Slunglow, so people who are artists in their own right, who will go off and do a show somewhere and come back and work behind the bar. It works well – we're very chuffed at the moment.
My favourite thing about working there has been meeting the people – the people are very diverse, with different backgrounds and experiences but they've all got a story to tell and its always great to chat to them. I enjoy building those social connections – I'm a people person and that's what it's all about for me.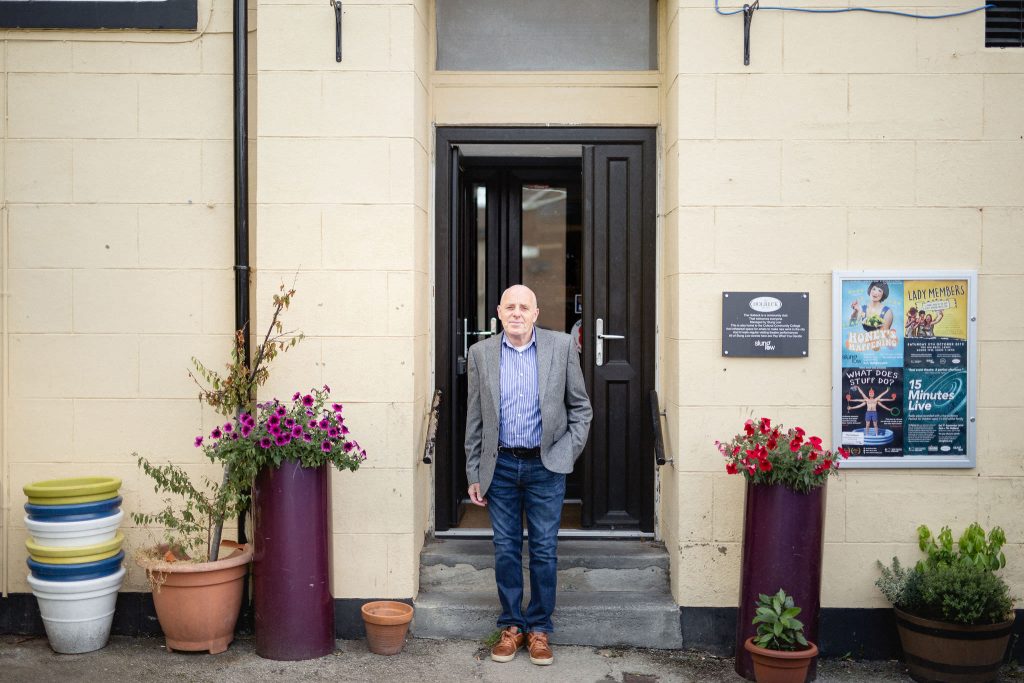 Holbeck Christian Fellowship have been very much involved at The Holbeck, giving me and Ian support behind the bar. People you'd never expect to be working behind a bar to be honest! They still support us now – and we do believe that the support we've had from Slunglow has been an answer to prayer.
We link with the local school and take the kids on a history walk in the area each year. Ian and I do it through Holbeck in Bloom with three classes – we do a treasure hunt and look at local historical buildings. They will be studying Victorian history and there are Victorian buildings here on their doorstep.
The history and the community are my favourite things about Holbeck. I did some digging on the history of the blue plaque at the Holbeck and found out that Lady Meynall Ingram actually gave some money to the club to set it up. She lived at Temple Newsam but owned a lot of property in Holbeck. She was a very conservative, Christian lady and it's interesting to see how she was involved with working people. A lot of people in Holbeck don't realise what the history of the place is. I think that knowing that history can really be anchor for local people.
+++
About True North: Stories of Holbeck
True North is a collaborative project between local people, Holbeck Together, and our friends at Northern Monk Brewery, which celebrates the rich tapestry of life in Holbeck, once the epicentre of the industrial revolution.
In this blog series, we bring you the stories of the members of the Holbeck community we invited to be part of our 2020 True North calendar. You can read more about the project here.
Drawing on over 27 years of experience working in Holbeck focusing on people in later years of living, Holbeck Together's doors are now open to the whole community. Holbeck Together supports people of all ages, providing advice and advocacy services, social activities and transport options.
Working collaboratively is central to our ethos and we believe that real social change is achieved when local people, groups, organisations and businesses work together. Our partnership with Northern Monk Brewery is a fantastic example of what can be achieved when businesses and voluntary organisations work together and pool resources to achieve a shared goal.
Photography featured throughout is by Mark Newton Photography.