True North: Stories of Holbeck – Gary
19th October 2020
GARY THOMAS, 54, LOCAL BUSINESS OWNER
I've been working in Holbeck since about 1985 – so about 34 years. We've been in 4 different shops – we were where Bridgewater Place is now until 1990, and then we went onto Water Lane in a place that's now the Midnight Bell in 2002. We were there for 13 years. It were Alec's Barbers in them days and then he retired and let me take in on. We were under a railway arch just down where the Holbeck Railway Sheds were and we were there until 2010 and I've been here since then.
This shop's always been a barbers. Before me it were Jack's Barbers. And the old guy that had it, everyone'll know him better than me – and they called him Mad Jack cos he'd play the trombone in between haircuts. He was popular and everyone remembers him.
The windows of the barber used to say 'New York', 'London', 'Paris', 'Holbeck'. People always remember that, because when I moved in and took it down some people were disappointed I took it down. I think a lot of his customers carried on with me.
I've known the community for a long time – no matter where we've been over the years it's been local people from Holbeck coming to us. We've had a lot of regulars and you get to know people all through their stages of life, until they move on or pass away. And then you get a new generation of people.
One of my oldest customers is Eddie Gray who used to play for Leeds and were manager of Leeds and he's still got a lot to do with them. If he's round here he comes for his haircut. Hes a nice man, right chatty. And he doesn't talk about football all the time, he asks about your family and if you've been on holiday. I support Leeds and he were my idol as a kid. When he walked through the door I nearly fell on the floor!
Another old player, Peter Lorimer, he had a pub in Holbeck – The Commercial – and he used to come in every now and then to get his hair cut. Another nice man.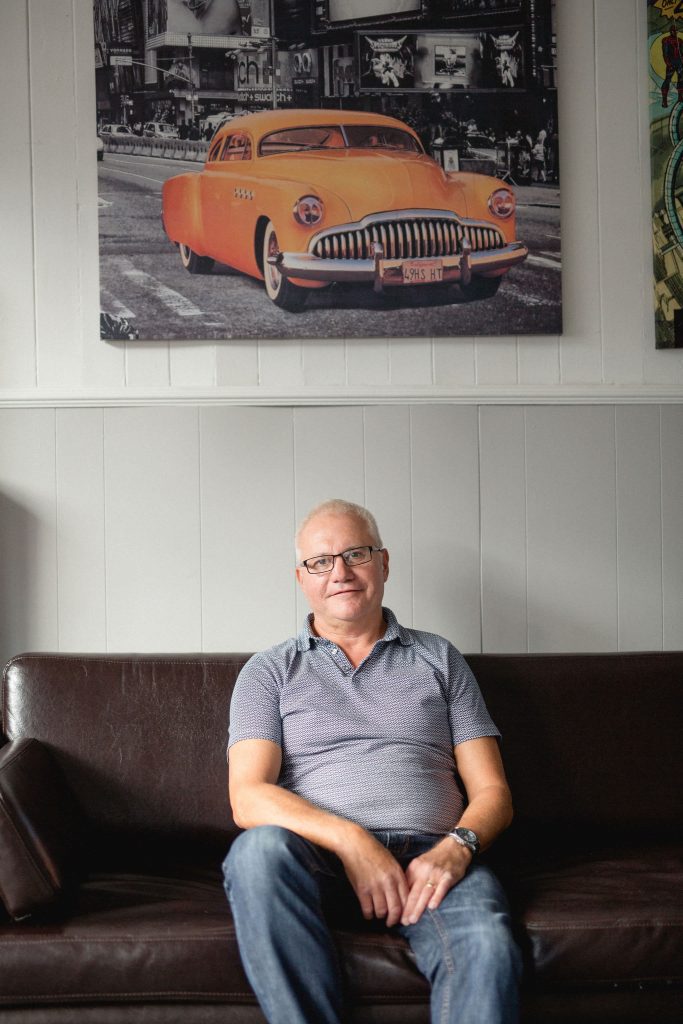 There's some lovely people in Holbeck and I think I've been fortunate – I only seem to get the lovely ones! I've really not been bothered since I've been here.
I'd love to see a decent supermarket for the older generations as there's no really good options for them and they have to get buses and that to go to Hunslet or wherever. I'd also love to see a nice decent pub! Because there aren't any any more. We used to have the Spotted Cow and the King's Arms which were really popular. Sometimes a bit rough and ready but a lot of fun!
I think my favourite part of the job is meeting people and having a laugh. When it's a barbers shop and its all lads its like being in a tap room in a pub sometimes. You can have a bit of banter especially if the football or rugby are on.
Virtually everyone's a regular. The girl who works for me – she's a character. Sometimes I think people come just to be insulted by Sarah. She tells you how it is does Sarah, whether you want it or not. Some lad might come in with colour on their hair and she'll say 'what the bloody hell have you done with your hair?!'. They love it.
+++
Gary's Barbers is at 91-93 Domestic Street, Leeds LS11 9NS, 0113 243 3036.
+++
About True North: Stories of Holbeck
True North is a collaborative project between local people, Holbeck Together, and our friends at Northern Monk Brewery, which celebrates the rich tapestry of life in Holbeck, once the epicentre of the industrial revolution.
In this blog series, we bring you the stories of the members of the Holbeck community we invited to be part of our 2020 True North calendar. You can read more about the project here.
Drawing on over 27 years of experience working in Holbeck focusing on people in later years of living, Holbeck Together's doors are now open to the whole community. Holbeck Together supports people of all ages, providing advice and advocacy services, social activities and transport options.
Working collaboratively is central to our ethos and we believe that real social change is achieved when local people, groups, organisations and businesses work together. Our partnership with Northern Monk Brewery is a fantastic example of what can be achieved when businesses and voluntary organisations work together and pool resources to achieve a shared goal.
Photography featured throughout is by Mark Newton Photography.