True North: Stories of Holbeck – Hannah
6th December 2020
Hannah Pearson, 32, local resident and works locally
I've been in Holbeck for nearly 10 years. I moved with my husband to be a part of the church here.
I work for Mosaic Church, a multi-site church that meets in various parts of the city, and I lead the Holbeck branch. We wanted to start a church for local residents, as we didn't feel like there was much of a church presence in Holbeck itself. We wanted it to be in the heart of the community and be available to everyone and anyone. For me, doing things for the community is a part of my faith. I believe in a God that teaches people to do the same for others and working with the community is one of the most important parts of my faith.
The Church is an opportunity for people to explore spirituality and faith and get to know each other and eat together. We have around 50 people in the congregation, of all ages. We do stuff through the week and in homes, often focused around food, to try to create a bit of community outside of Sunday. We're the newest and smallest site in Leeds and we have a different style of worship – it's quite interactive, and hopefully more fun.
Working here is really interesting. There are lots of people who have lived in Holbeck for a long time but there's also people from different countries and backgrounds, which means the community is really diverse. It can be a transient community with some people living here for shorter time, which can be challenging for people to make connections; It took me a little while to make friends and feel connected when I first arrived.
My favourite thing about work is seeing people thrive in who they are and in who God has made them to be. Seeing a person's journey, connecting with the Church and seeing, for instance, a young single mum raising her child within our church family and gaining confidence in being herself, is just a wonderful thing. It's amazing to see people benefiting from the wider social connections, even if they only come for a short time.
We also started Holbeck Food Bank in collaboration with the Holbeck Christian Fellowship. A school asked us to help with food provision for local families, so we organised food collections and distributions. We get referrals and then deliver food parcels to people's houses. It's hard to imagine how much food poverty is in your area and then you realise that it's your neighbours and it really hits home. On one level it's been quite hard, but you also realise how much you can do by becoming more organised, so it's been a good journey.
There is a blurring of boundaries between home, work and community and that's the nature of working for a church. It's not just a job, it's part of my life as well. There are lots of things that are my job that I would do anyway. My husband is a teacher and he feels strongly that he wants to teach the children of his community. Again there are challenges, but I think he thinks that it brings even more to the role and develops the connections with the children and families.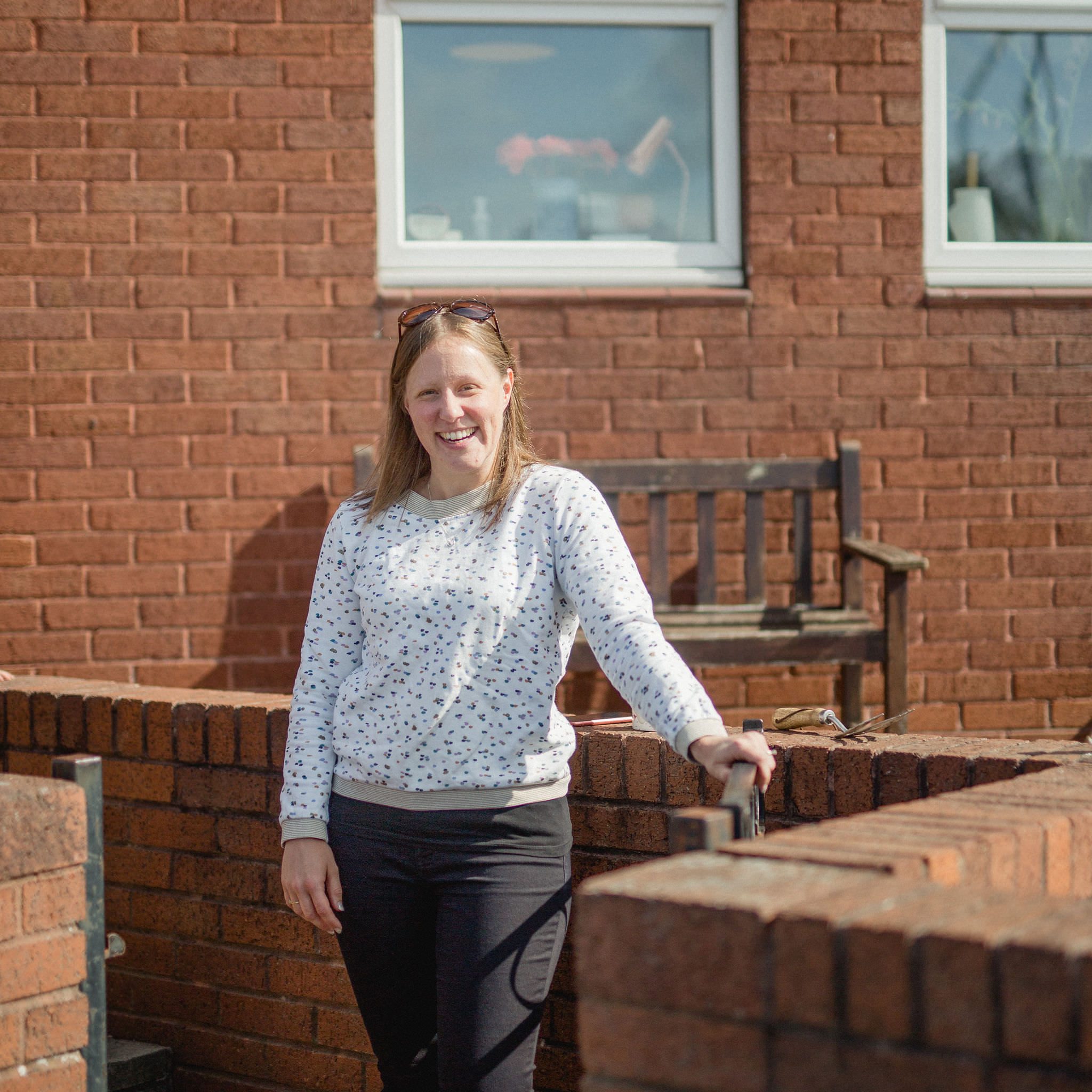 My favourite thing about Holbeck is the people. You also don't know what you're going to see every day – I remember one day I came out of my house and there was a massive horse lying across the path. You see different communities sharing public spaces in a way that I don't think you would in a community where everyone had more private space.
It can be quite difficult to build relationships in the area because there are no cafes or communal spaces to meet in and it can be quite personal to invite someone over to your house. At our little house, we took up some slabs to make a little garden, so that there's somewhere to sit. There's a flat wall, so people will come out and sit on it and chat to us.
My son, Sam, was born in Holbeck and has lived here for all of the 2.5 of his life. He's lucky because his best friend Holly lives next door and she's also two and he gets to see her all the time. He comes to church and runs around so that everyone else feels better about bringing their own kids.
Holbeck has changed in the time that I've been here. The physical regeneration has changed the way it looks and feels – there are less boarded up buildings and it feels more open. I would like to see Holbeck to be known as a place of healing and restoration rather than a place where there are issues and problems. I'd like it to be known as a place that people want to visit because it's really lovely and life-giving and restorative. I want Holbeck to be the best place it can possibly be for my son.
Note: this piece was originally written in Autumn 2019.
+++
About True North: Stories of Holbeck
True North is a collaborative project between local people, Holbeck Together, and our friends at Northern Monk Brewery, which celebrates the rich tapestry of life in Holbeck, once the epicentre of the industrial revolution.
In this blog series, we bring you the stories of the members of the Holbeck community we invited to be part of our 2020 True North calendar. You can read more about the project here.
Drawing on over 27 years of experience working in Holbeck focusing on people in later years of living, Holbeck Together's doors are now open to the whole community. Holbeck Together supports people of all ages, providing advice and advocacy services, social activities and transport options.
Working collaboratively is central to our ethos and we believe that real social change is achieved when local people, groups, organisations and businesses work together. Our partnership with Northern Monk Brewery is a fantastic example of what can be achieved when businesses and voluntary organisations work together and pool resources to achieve a shared goal.
Photography featured throughout is by Mark Newton Photography.