True North: Stories of Holbeck – Nikki
27th October 2020
NIKKI HAYES, 34, HOLBECK TOGETHER VOLUNTEER & LOCAL RESIDENT
I've lived in Holbeck for 9 years. I'm from near Elland Road but moved to Bradford with Mick before coming back to Leeds to care for my granddad. He was elderly and needed me to take care of him. So I did that 5 days a week, sometimes 7. Shopping, cleaning anything he wanted really.
And then I took Cath on as well, both at the same time. But then my granddad passed away and it was just Cath. I used to bring her down to Holbeck Together and that's how I got involved. I got talking to Roy and he got me to volunteer on the bus.
So I started as passenger assistant with Roy and then did the first Kids Club last October and we baked biscuits and then started in the kitchen with chef.
I have three kids and they loved coming to Holbeck Together – so we thought it was something we could tie together. I seen a programme about people in a care home and young kids mixing and I just saw the joy that the mixture of ages could bring and how it could change both. And I wanted to do something like that and that was the start of kids club – we learned that we could support people to mix. It was lovely, the older people were listening to the kids and then explaining how it had been for them and the kids really enjoyed it.
It were challenging but it was rewarding seeing people leaving happy. People are always looking for things to do in the holiday as a community. It's fun, I've enjoyed it. I mean it were hard work but it all worked out in the end, it were worth it.
I like cooking and doing breakfast with chef at the café. I've learned so much from her. She's a good teacher! She taught me how to make cakes and now I'm starting to do Wednesday's with her, so I'll be learning some new dinners. I like to cook, food is a good brings people together, everyone loves food and everyone loves to sit together. It's great because then I can use my cooking skills at home.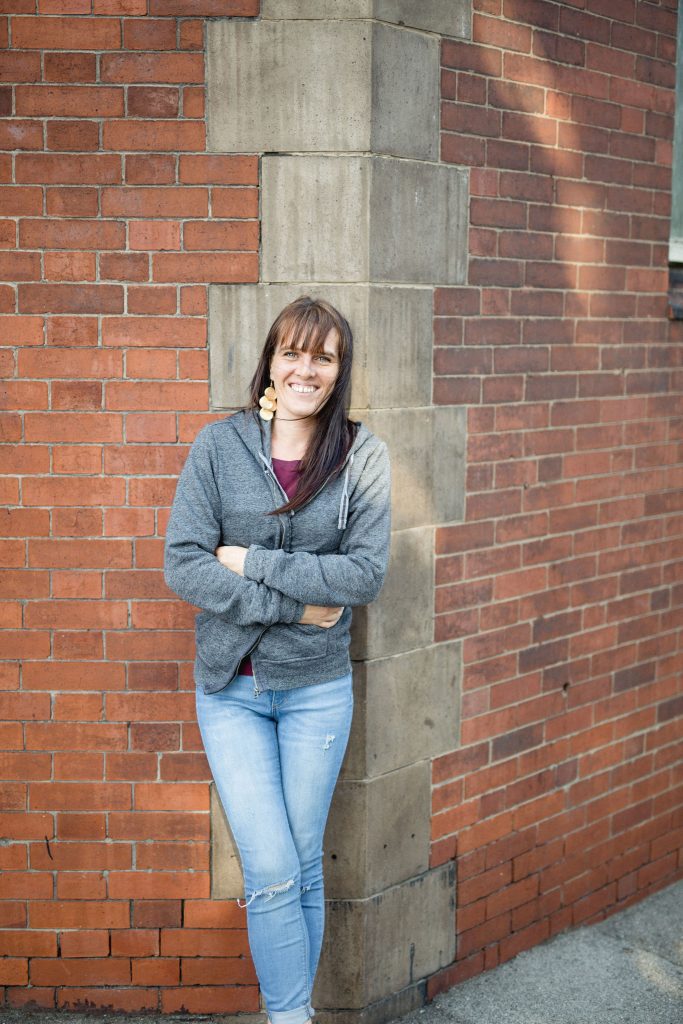 There are more baby and toddler groups now. When I first came back, Alfie were only two and there wasn't anything. But now there's stuff at St. Matthew's and at St. Luke's and the skate park was great.
I do feel less safe now – I feel like if you're a young woman on your own youre getting targeted. I feel like I can't use the facilities for the kids because there's drunks all about, fighting in lumps.
Where I live is lovely, there's no trouble, my neighbours are lovely, lots of kids – I feel really safe up there. It's just in some areas it gets intimidating and that.
I'd love to see somewhere safe for all kids and families to be safe. That we could all go there at 4 oclock and feel safe. I would like to see a better park as well to be honest.
+++
About True North: Stories of Holbeck
True North is a collaborative project between local people, Holbeck Together, and our friends at Northern Monk Brewery, which celebrates the rich tapestry of life in Holbeck, once the epicentre of the industrial revolution.
In this blog series, we bring you the stories of the members of the Holbeck community we invited to be part of our 2020 True North calendar. You can read more about the project here.
Drawing on over 27 years of experience working in Holbeck focusing on people in later years of living, Holbeck Together's doors are now open to the whole community. Holbeck Together supports people of all ages, providing advice and advocacy services, social activities and transport options.
Working collaboratively is central to our ethos and we believe that real social change is achieved when local people, groups, organisations and businesses work together. Our partnership with Northern Monk Brewery is a fantastic example of what can be achieved when businesses and voluntary organisations work together and pool resources to achieve a shared goal.
Photography featured throughout is by Mark Newton Photography.