True North: Stories of Holbeck – Salvatore
4th December 2020
Salvatore Vaccara, local business owner
I've worked in Holbeck for 16 years – I'm a lifer!
There's been a tyre shop here for years, since before I moved in, but it was much smaller. The shop used to be in the Tailors on Domestic Street and the work shop where I am now. Then when the unit next door came up, I took that over too for better storage. It's like Doctor Who's Tardis my shop, it's quite deceiving!
I've always worked in Holbeck, first of all on Geldard Road then Water Lane, then I decided I wanted to work for myself for a change. It's stressful sometimes and hard work but you don't have to listen to anyone else. I find it difficult to be told what to do, and it never felt like you were appreciated in a big company – just a name and a number.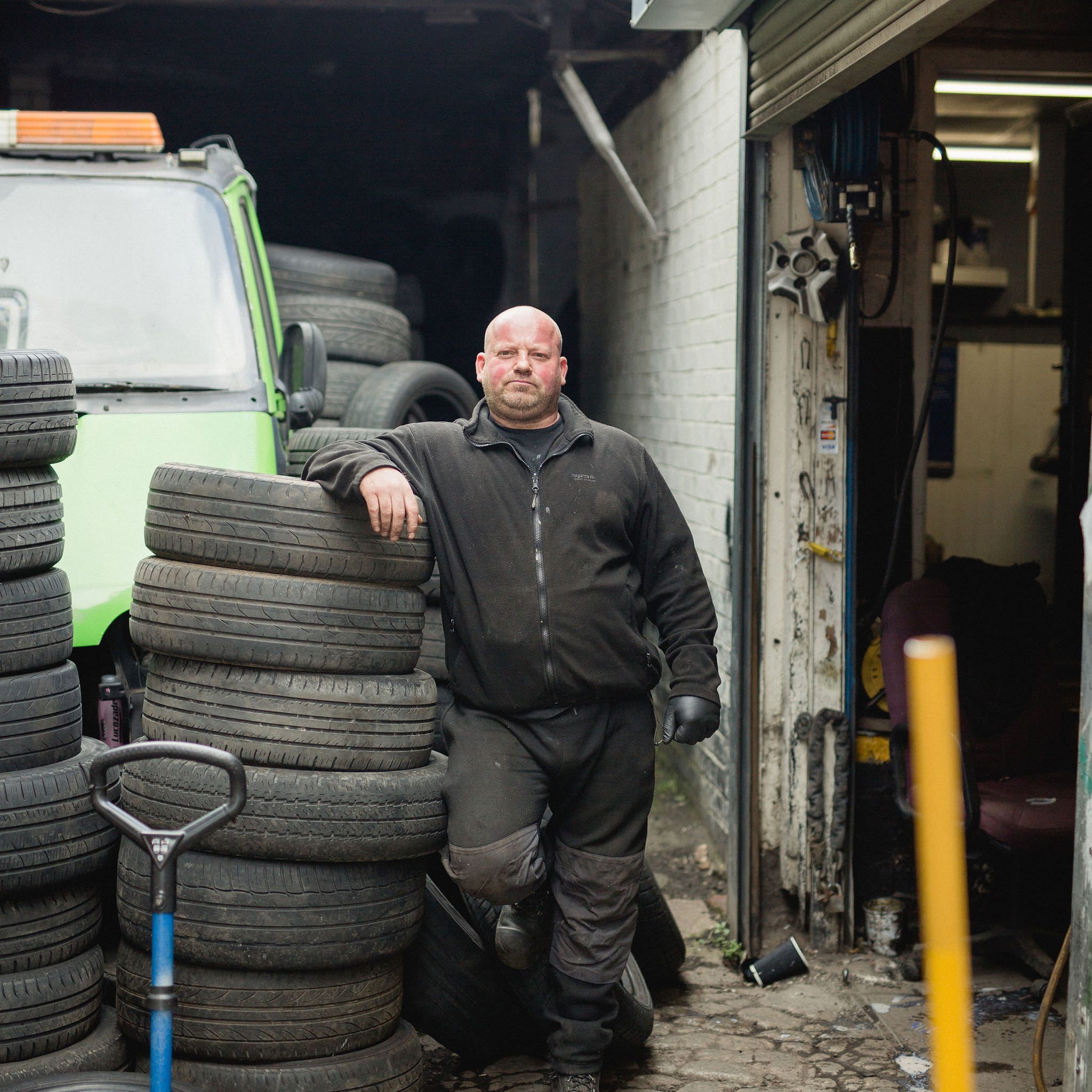 When the let came up I thought I'd give it a go, and I'm still here 15 years later so I must be doing something right – it must be my customer service!
Working for yourself has its perks. I have an issue with authority and I used to go from job to job to job because I couldn't handle how the managers talk to you. But you get to a point when you think there's more out there than working for somebody.
A lot of my customers are regulars – I see people day in and day out and it's word of mouth. You build up a good relationship with people and that's what makes it work. It's tough sometimes when people use Holbeck to park their cars, but they aren't staying in Holbeck.
Things have changed in the time I've been here. All of the pubs have gone and its been a loss for the community, it makes a difference to have somewhere for people to meet. It were a good pub crawl in Holbeck back in the day!
It's tough sometimes when people use Holbeck to park their cars when they aren't staying in Holbeck. I'd love to see better parking. Even when The Old Box Office was a bank, and Lingard's was next door and three businesses were next to each other, we never had any problems.
+++
About True North: Stories of Holbeck
True North is a collaborative project between local people, Holbeck Together, and our friends at Northern Monk Brewery, which celebrates the rich tapestry of life in Holbeck, once the epicentre of the industrial revolution.
In this blog series, we bring you the stories of the members of the Holbeck community we invited to be part of our 2020 True North calendar. You can read more about the project here.
Drawing on over 27 years of experience working in Holbeck focusing on people in later years of living, Holbeck Together's doors are now open to the whole community. Holbeck Together supports people of all ages, providing advice and advocacy services, social activities and transport options.
Working collaboratively is central to our ethos and we believe that real social change is achieved when local people, groups, organisations and businesses work together. Our partnership with Northern Monk Brewery is a fantastic example of what can be achieved when businesses and voluntary organisations work together and pool resources to achieve a shared goal.
Photography featured throughout is by Mark Newton Photography.