True North: Stories of Holbeck – Val
23rd November 2020
Val Stubbs, 62, Holbeck Together Volunteer
In 1978 I lived in Selby and I were made redundant. My uncle who lived in Leeds invited me to come live with him to look for work cos I'd have a better chance of finding something. I'd applied for loads of jobs but hadn't found anything, so my uncle who was a bus driver in the Middleton garage said, as you would, why don't you get ont buses for a couple of months, it'll put you on. So I did – and I stayed! It were that sort of job, that people used to say I'll do it for a couple of month, but then when you're on, the money were fantastic and I just stayed.
At first I didn't think I'd be able to drive – I'm only 5 foot 2 and I couldn't press the brake peddle right to the floor. He said you've got two options – you can leave now or stay on as a conductor but then if they tell you to drive you'll have to leave. A couple of months later they got rid of the back-loaders and my manager came to me and said 'send off for your driving test Val, you're going in driving school next month!'. It took me a year to learn.
We did a few hours in the classroom then straight onto the bus and I thought we'd be on an airfield or something, but we went straight down to South Parkway and he said 'Get in!' and I thought – you're joking, a dual carriageway! I says I've never driven before and he said 'you'll be the best to teach because you won't have any bad habits to knock out of you.' You did 3 weeks then you did a test, and I failed on lack of experience and I thought – thank god! I didn't feel competent then to take a busload of passengers. And then I did pass and I stayed.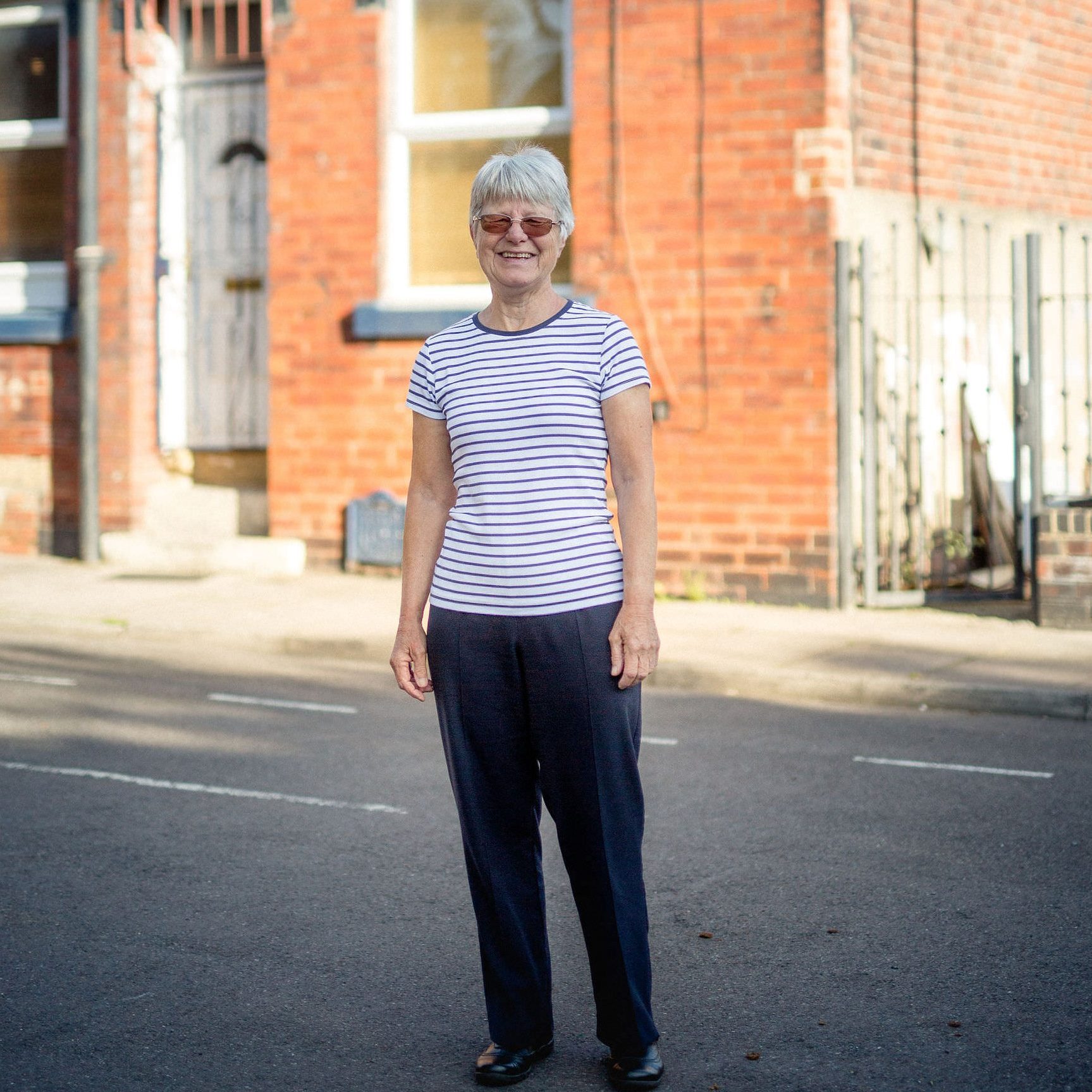 Out of Middleton garage, there was one other female driver. Obviously there were female conductresses, but they were older, at least in their 50s. But they were phasing out the conductors and making them single-operator, so it changed things for women. I were only 21 and I was shy, I wouldn't have said boo to a goose. They ribbed me a lot, two drivers in particular and I were gonna leave it were really getting to me, but then I just thought, sod it! So just gave them back what they gave me.
In the end I made fantastic, life-long friends. It's just such a wide circle that you know. We meet up on a Friday every 6 weeks or so. They still do the Christmas dos. Unfortunately you go to more funerals now – you used to be going to weddings every week, someone's kids or other – it's awful. But that's life.
When they shut Middleton garage I went to Torrey Row and when they shut that I went to Cherry Row. Then I got involved with the union. I was first voted on as the women's rep, but I found it to be lip-service. I did manage to get some things done but it seemed like it didn't mean anything, so I went for full garage rep and got that. Then I was voted on to the top table as Vice Chair of the 9/12 branch. I did two years on there before being unseated. People still came to me with problems after that, and I did miss it.
The job got worse and worse after that – they wanted more out of you for less money. I made a pact with a colleague to do my 40 years but the last two years were that horrible, I found myself not even wanting to get up, and that's just not me. I realised it wasn't worth my pride to stay on – they didn't value us anymore.
It was a really good community – at Middleton it were like we were a big family. And there were social sections – for bowling, rugby, cricket and football and all sorts. We'd compete nationally and they'd pay for your travel and accommodation, but slowly all that got taken away. I'm so pleased I started when I did and I'm doubly pleased I finished when I did.
I met Dave and Gerry at Middleton depot – you got to know other people on the lunch breaks. The Viaduct pub used to be a big social place for bus drivers. There were three booths – one for Torrey Road, one for Middleton and one for Bramley. All just drivers and conductors! You'd do 4 hours driving, 4 hours off then 4 hours driving. It was a lot of fun – there was a lot of camaraderie then.
I decided when I retired that I'd take a year off – I wanted to do all the things I couldn't do when I was working, like landscape my garden. But when I'd done all that I were bored, so I was at the Middleton garage reunion and Dave said that he and Gerry were volunteering at Holbeck Together, and I thought try it out. I didn't want to go somewhere where I didn't know anyone, and now I wouldn't swap it for the world. I just absolutely love it. I love being busy and there's always lots to do and the people are just lovely.
+++
About True North: Stories of Holbeck
True North is a collaborative project between local people, Holbeck Together, and our friends at Northern Monk Brewery, which celebrates the rich tapestry of life in Holbeck, once the epicentre of the industrial revolution.
In this blog series, we bring you the stories of the members of the Holbeck community we invited to be part of our 2020 True North calendar. You can read more about the project here.
Drawing on over 27 years of experience working in Holbeck focusing on people in later years of living, Holbeck Together's doors are now open to the whole community. Holbeck Together supports people of all ages, providing advice and advocacy services, social activities and transport options.
Working collaboratively is central to our ethos and we believe that real social change is achieved when local people, groups, organisations and businesses work together. Our partnership with Northern Monk Brewery is a fantastic example of what can be achieved when businesses and voluntary organisations work together and pool resources to achieve a shared goal.
Photography featured throughout is by Mark Newton Photography.