Holbeck Together: Our Partners – Your Space
28th September 2020
YOUR Community Wellbeing and Outreach Service!
Your Space is a Community Wellbeing and Outreach Service. Set up in April 2019 as a partnership between local charities Holbeck Together, Touchstone and Women's Health Matters and funded by Leeds City Council, Your Space works in LS8, 9, 10 and 11.
The project supports people to improve and maintain their mental health and wellbeing. They work with and for communities – the people Your Space support have a big role in deciding the activities that are delivered.
Your Space provides a range of activities, including social activities and drop-in spaces. Pre-lockdown you might have heard of their famous "Chocolate Chat and Chill" socials, or enjoyed a meal at the monthly curry club! Sadly the on-going COVID-19 pandemic means that face-to-face activities are still limited, but they're doing lots online as they work to set up safe in-person activities in the coming months.
In the meantime, you can check out their wellbeing videos on YouTube, become a penpal for our Letter-Writers Against Loneliness project, join the online socials and games groups via Zoom, become a part of the local community wellbeing Facebook groups and much more! Your Space offer sessions both during the day and out of office hours, including weekends, like the community-led Sunday Natters group.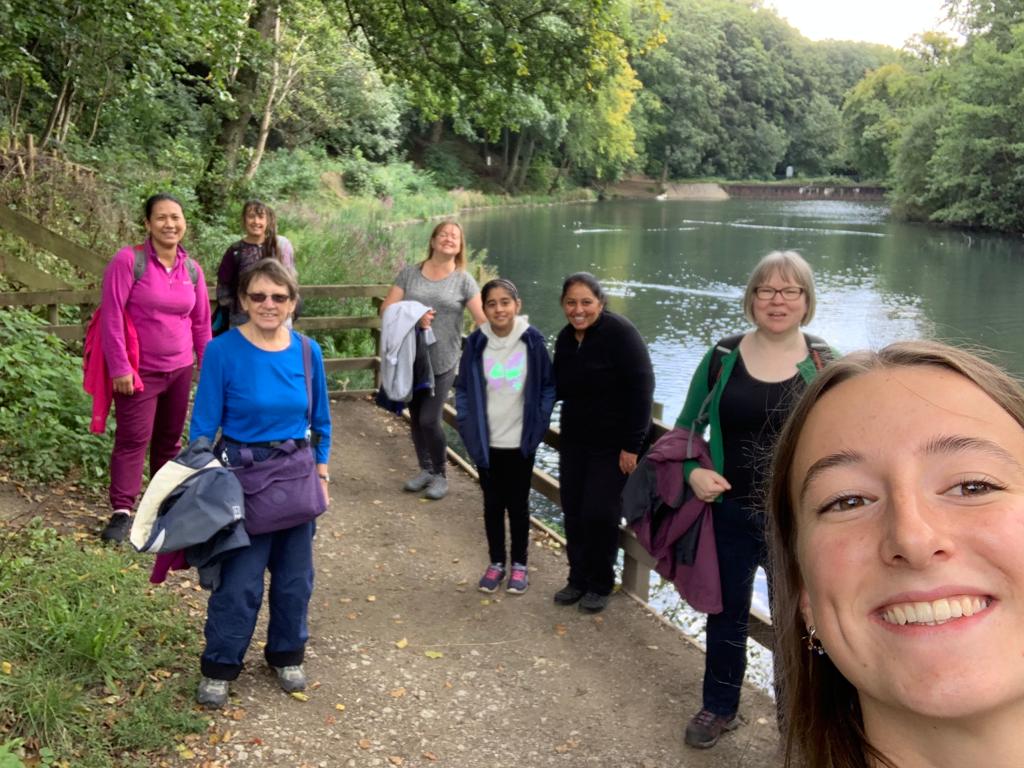 There are also opportunities for individuals to talk with trained workers about where to find help locally, across Leeds, online and beyond, and to have positive conversations about mental health and wellbeing. Community groups and local employers in Leeds can also take advantage of the free bespoke wellbeing training!
It's been a great opportunity to work with Touchstone and Women's Health Matters, as well as an opportunity to develop the skills we have embedded in the team and the ways we can support those living locally. The project has enabled us to have another member of the team working on the ground in Holbeck making connections in the community and providing targeted outreach and wellbeing support. Anne, who is employed by Holbeck Together but working in the Your Space team, works closely with our support and advice officer Claire, to provide inter-organisational, wrap-around support to people of all ages in Holbeck and Beeston. It makes such a difference when organisations are able to work collaboratively to address the challenges that people experience.

Elissa, Chief Officer, Holbeck Together.
During lockdown we launched our first Wellbeing pack in partnership with Your Space, to provide those shielding with advice and activities at home. If you are interested in receiving a pack yourself, or know of someone who would benefit from one, please give us a call on 0113 245 5553 or drop us an email at admin@holbecktogether.org.
Your Space want to make sure that everyone has the opportunities and resources to live happy, healthy and fulfilled lives. If you'd like to join them or learn more, please contact the team on 0113 426 1141 / yourspace@touchstonesupport.org.uk.
They're social! Join them on:
Facebook- https://www.facebook.com/yourspaceleeds
Instagram – https://instagram.com/your_spaceleeds
Twitter – https://twitter.com/YourSpaceLeeds
YouTube – https://www.youtube.com/channel/UCBFfQdEmEIIV6BUWQoS52cw