Holbeck Together: Our Partners – Your Space
15th March 2021
Your Space is a Community Wellbeing and Outreach Service. Set up in April 2019 as a partnership between local charities Holbeck Together, Touchstone and Women's Health Matters and funded by Leeds City Council, Your Space works in LS8, 9, 10 and 11.
The project supports people to improve and maintain their mental health and wellbeing by sharing skills, interests and laughter through social activities. They work with and for communities – the people Your Space support have a big role in deciding the activities that are delivered.
Your Space provides a range of activities, including social activities and drop-in spaces. Pre-lockdown you might have heard of their famous "Chocolate Chat and Chill" socials, or enjoyed a meal at the monthly curry club! Sadly the on-going COVID-19 pandemic means that face-to-face activities are still limited, but they're doing lots online as they work to set up safe in-person activities in the coming months.
Across autumn, we ran weekly walking groups in Middleton and Cross Flatts Park, and hopes to run more groups like this when government guidance allows. Over the winter months there's a variety of activities people can get involved with, such as the LS10 Community Kindness Project, South Leeds Winter Bakes 'n' Brews and Elevate – a group for young women aged 16-25. Keep your eyes peeled for more craft projects, plant pals, wellbeing packs and social groups as we move towards spring.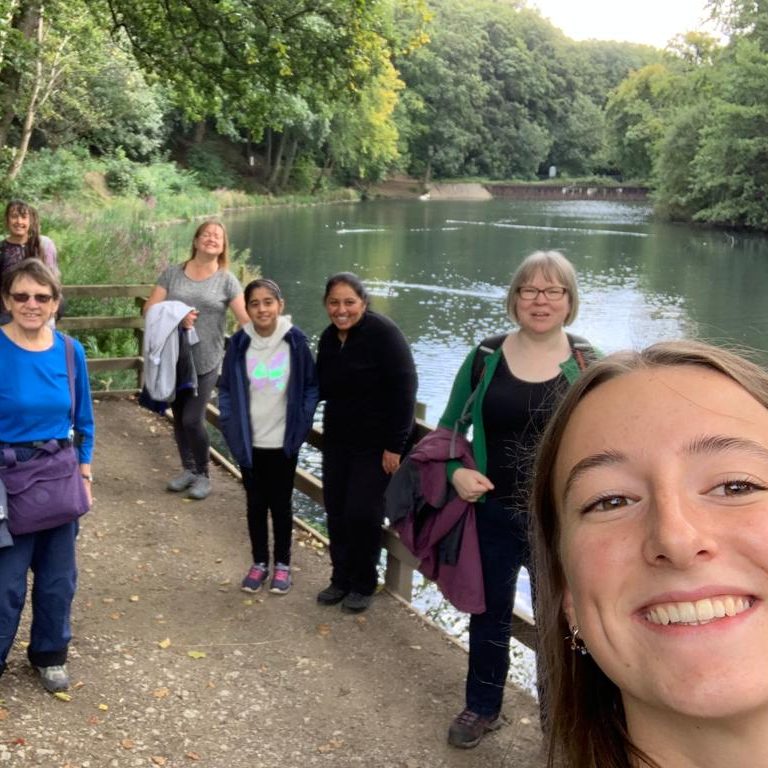 Over December, you may have seen the fabulous work of your neighbours who took part in the South Leeds Winter Wonderland project – creating beautiful seasonal window displays with craft packs supplied by the Your Space team.
During lockdown we launched our first Wellbeing pack in partnership with Your Space, to provide those shielding with advice and activities at home. If you are interested in receiving a pack yourself, or know of someone who would benefit from one, please give us a call on 0113 245 5553 or drop us an email at admin@holbecktogether.org.
Now more than ever we need to invest in our health, both physically and mentally. The groups are one way you can boost your health as they build on the five ways to wellbeing – connecting, keeping active, learning new things, giving to others and being present (mindfulness). If you'd like to learn more about wellbeing, check out YourSpace's groups and events, or if you have an interest in setting up a group with their support contact the team on 0113 426 1141 or email yourspace@touchstonesupport.org.uk.
You can also join them on social media:
+++
About 'Holbeck Together: Our People'
People are at the heart of our work: our clients, our volunteers, our staff and our partners.
When Covid-19 struck in March 2020, many felt their connection to others under threat. In a phenomenal outpouring of support for one another, the Holbeck community responded in kind. From keeping an eye on neighbours, to picking up shopping and prescriptions, to helping deliver hot meals to those shielding, everyone has played their part in what has been an outstanding team effort.
In this series we want to share some of these stories, to shine a light on the experiences of those who drive the work we do and make it all worthwhile – our people.
Look out for future blogs in the 'Our People' series. You can find out more about the services Holbeck Together is operating at the current time on the website here. Find out all about our journey through lockdown and beyond in more detail by reading our Anchoring a Community Report.
About Holbeck Together
Holbeck Together was established as a Neighbourhood Network Scheme in 1992 to support older people living in Holbeck. Drawing on these experiences and expertise, we now welcome people from all generations.
We provide a variety of services, activities and opportunities for people to get involved locally. Many activities are specifically for people in later years of living, others for younger people and some for all ages.