Holbeck Together: Our People – Audrey
22nd February 2021
Audrey is a local resident and client of Holbeck Together.
At Holbeck Together, supporting, engaging and working with people in later years of living has always been at the heart of our work. We are a community anchor; ensuring someone is always there to help, advise, support and care, and we pride ourselves on being a resource for those living locally.
This has never been truer and more important to us than when the coronavirus pandemic began to take hold back in March 2020. We quickly adapted our services as we knew it was critical that, more than ever, we provided a helping hand to those who needed it the most.
The impact on the older members of our community has been considerable. Many people were told not to leave their homes, either owing to their age, or clinical vulnerabilities. Self-isolation has and will, for many older people, lead to increased loneliness, social isolation and possible mental health problems.
That said, the outpouring of support shown by the community has been astonishing, and despite many challenges, there have been some silver linings too. Holbeck Together's Chef, Julie, for example, has been able to strengthen her relationships with clients, and although we have supported many of them for a number of years, we have also reached many people we have never been in touch with before.
One such woman is Audrey, 89, who lives on the boundary of Beeston and Holbeck. Shortly after the first lockdown began, we got a call from Audrey who was isolating due to her age, and needed support with getting food and essential items. Audrey says, "the first lockdown was awful – I was told I couldn't go out because of my age but my friends were going out and I couldn't join them. I really missed going out, and I wasn't able to get my usual transport to the hospital."
Born and bred in Holbeck, Audrey spent her early years living in the Belvederes, and went to Cross Flatts school before leaving at 14 to take up her first job. Audrey moved back to Holbeck six years ago after the death of her husband, who was taken ill within just a few months of their marriage. She proudly points to a picture of her and her late husband on their wedding day.
Audrey's daughter lives in Tenerife, and while she has been on a couple of trips to visit her and enjoy some winter sun, health troubles, combined with the circumstances over the past year, have meant she hasn't seen her daughter. Sadly Audrey also lost her sister three years ago, who it's clear she was incredibly close to and talks of having dinner with every Sunday.
So with no family nearby, Audrey has been left isolated by the Covid pandemic with little support, as many others have been. Initially, her daughter tried to arrange food deliveries for her from afar, but supermarkets weren't taking any more people on. In the end it was an advert in the local newspaper that connected Audrey with Holbeck Together.
Early on in lockdown, we organised Audrey's food shopping, with volunteers delivering her essentials on a weekly basis. "Everyone who came was so lovely and friendly." She has been having her meals delivered every day of the week ever since, and her favourite is Fish and Chips on a Friday. "I like to make half a fish butty and half a chip butty!"
Audrey looks forward to dinners and people coming to deliver them who say 'hello' and 'how are you?' "The best bit is seeing the people coming to drop off the lunch. The first time someone came with my shopping they took a picture of me and the next thing I saw it in the newsletter – I couldn't believe it!"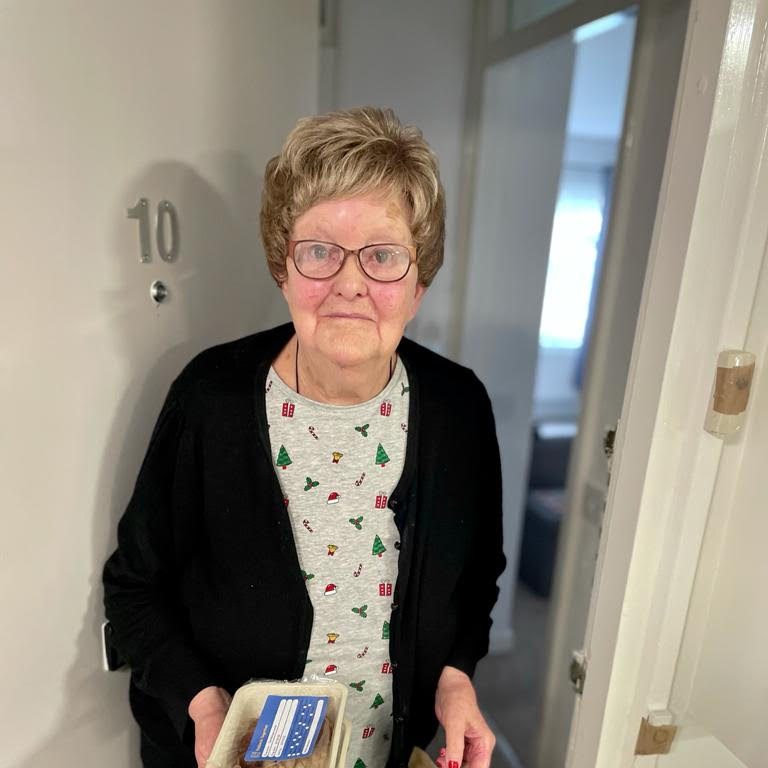 Knowing her mum is being looked after has been a huge comfort to Audrey's daughter. "My daughter has been ringing me every day, asking if I'm OK and whether I've had something to eat – and I'm able to tell her I've had a delicious dinner. She says I have better dinners than she does! She's been really thrilled that I've had the support I have."
As restrictions were initially eased at the start of last Summer, Audrey's first visit was to the bank, and she mentions being frightened the whole time she was out. Things had improved though, and Audrey had returned to getting the Access Bus to do her supermarket shopping twice a week. Although she says she's forgotten her way around and is a little unsteady on her feet, Audrey had been enjoying getting out and about again. 
Despite a very challenging year, Audrey is remarkably full of life and loves to crack a joke. There is a real sense of community in the retirement housing building where she lives, and she has a number of good friends who look out for and support each other.
They gather in the communal room most afternoons, and on Friday night she takes turns with her neighbour to bring drinks along to play bingo. "Gin and tonic is my favourite, but only one!" Although social distancing guidance means this is a little different and difficult at times, it's clear that being part of this community is a huge part of Audrey's life. "I enjoy being at home, it's a good community," she says.
Audrey has very fond memories of time spent in Holbeck when she was growing up, most vividly of visiting her grandad and auntie who lived in the Tilberrries. Her favourite Holbeck memory is visiting the Holbeck Feast with her grandad who used to take her to the Old Peacock afterwards.
Later in life, she also spent a lot of time at the Bowling Club, where her late husband was the President. She played bingo, enjoyed a few drinks and even celebrated her 80th birthday there with family and friends. When she can, Audrey would love to go down to Holbeck Together to enjoy her dinner amongst friends and enjoy a trip out.
With our offices situated in the heart of Holbeck, where many people drop in on an ad hoc basis, we appreciate the crucial importance of the community for people's wellbeing. We're very much looking forward to welcoming back all of our clients, including Audrey, when it is safe to do so.
People tell us that we bring people together in times of change, and the change we have all experienced this year has been more testing than any time we can remember in the history of the organisation. We are thrilled that we have had the chance to support Audrey, and others like her, who otherwise would have been left with few options for practical support and without a friendly face knocking on the door many times a week.
Audrey looks forward to her favourite outings to the Whistle Stop pub or for Friday dinner at the White Hart. It's hard to believe she turned 89 in October. She's determined to stick with tradition and have her 90th birthday at the Bowling Club – and looks forward to inviting all of her friends to join the celebrations.
About 'Holbeck Together: Our People'
People are at the heart of our work: our clients, our volunteers, our staff and our partners.
When Covid-19 struck in March 2020, many felt their connection to others under threat. In a phenomenal outpouring of support for one another, the Holbeck community responded in kind. From keeping an eye on neighbours, to picking up shopping and prescriptions, to helping deliver hot meals to those shielding, everyone has played their part in what has been an outstanding team effort.
In this series we want to share some of these stories, to shine a light on the experiences of those who drive the work we do and make it all worthwhile – our people.
Look out for future blogs in the 'Our People' series. You can find out more about the services Holbeck Together is operating at the current time on the website here.
About Holbeck Together
Holbeck Together was established as a Neighbourhood Network Scheme in 1992 to support older people living in Holbeck. Drawing on these experiences and expertise, we now welcome people from all generations.
We provide a variety of services, activities and opportunities for people to get involved locally. Many activities are specifically for people in later years of living, others for younger people and some for all ages.