Holbeck Together: Our People – Claire
8th March 2021
Established as a Neighbourhood Network Scheme in 1992, Holbeck Together has been operating as part of Leeds' health and social care sector for 27 years. Building on the foundation of this experience and expertise, the organisation supports communities to strengthen existing relationships and resources. It helps to keep people of all ages, but with an additional focus on older people, socially and physically active, and empowered to make more informed choices in relation to their health and wellbeing.
Holbeck Together's Operations and Service Officer, Claire, is at the very heart of the outreach support that clients can benefit from. Claire provides support and advice to isolated people and the wider community, enabling them to meet their physical health, mental health and cultural needs, as well as managing the staff team and other operations in the office.
In 'normal' times, Claire spends most of her time out on home visits to see people who might have been referred from a number of various places. "I visit people to get a bit of background about what they need, explain what we do and what they'd like to be involved with, so I'm the first point of contact in that way. If they decide they want to get involved with some of our activities, or meal services, I let Matthew (Service Development Officer) know, who would then get in touch with them, or meet with them when they come along for the first time."
Being located in the very heart of Holbeck, Claire and the team also support people who come into the office for support, a lot of the time walking in off the street. "I help people with a huge range of things, from benefits to housing, education or job skills, as well as signposting them to other help or services for specialist support where that's most appropriate. There are a lot of different elements to the job, more so now because we support people of all ages; lots of younger people now come to us for help and advice."
Having joined Holbeck Together as an admin worker nine years ago, Claire slowly progressed into her current role, and has been supported by the organisation to study, achieve a number of qualifications, and most recently embark on a degree in Leadership and Management. "Going through that process of building my way up has really helped me to get to know the role. It's changed quite a bit over the years, but there are a lot of clients I work with who have been there since the very beginning and who I've built up relationships with."
Throughout many years of delivering Leeds City Council's Neighbourhood Network Scheme contract, the organisation has also built up extensive networks of professional support, many within the local area; and these connections were crucial to enabling Holbeck Together to support its community through an unprecedented global pandemic.
When the virus emerged in March, Claire says the team always knew that they would continue supporting their clients, just in a slightly different way. "There was no reason why we couldn't adapt our services. For our meal service for example, we had the equipment and kitchen facilities to provide outreach meals on a much bigger scale than we had previously and it was a real lifeline for many. Delivering a hot nutritious meal became the anchor and we built our support and activity services around that." Despite this, Claire was concerned for the people she supports. "Many of our clients are isolated at the best of times and a lot don't have family or other people around them, so to lose us as well would have been a big knockback for a lot of people."
As the team was quickly adapting to delivering a 'meals on wheels' service, they were also challenged with turning their attention to keeping in touch with all of their clients virtually. There's a befriending service operated by volunteers that Claire oversees, and Holbeck Together's Chef Julie does wellbeing calls at the beginning of the week to all clients who are receiving meals, so she will pass on any concerns. "We are in regular contact with people, but not getting the same quality in person interactions is having an impact, and it's a big change for them from coming in 3 or 4 times a week. The people that we have seen, we've seen a dramatic change in their appearance – people seem to have aged a lot in such a short space of time."
Claire has missed a number of groups that she usually runs including a wellness group and a group for carers. "I have built up really good relationships with people through running the groups – you get to know them really well on an individual basis. They tell me how much they miss it and I do too, keeping in touch with people over the phone just isn't the same – both for me and for them."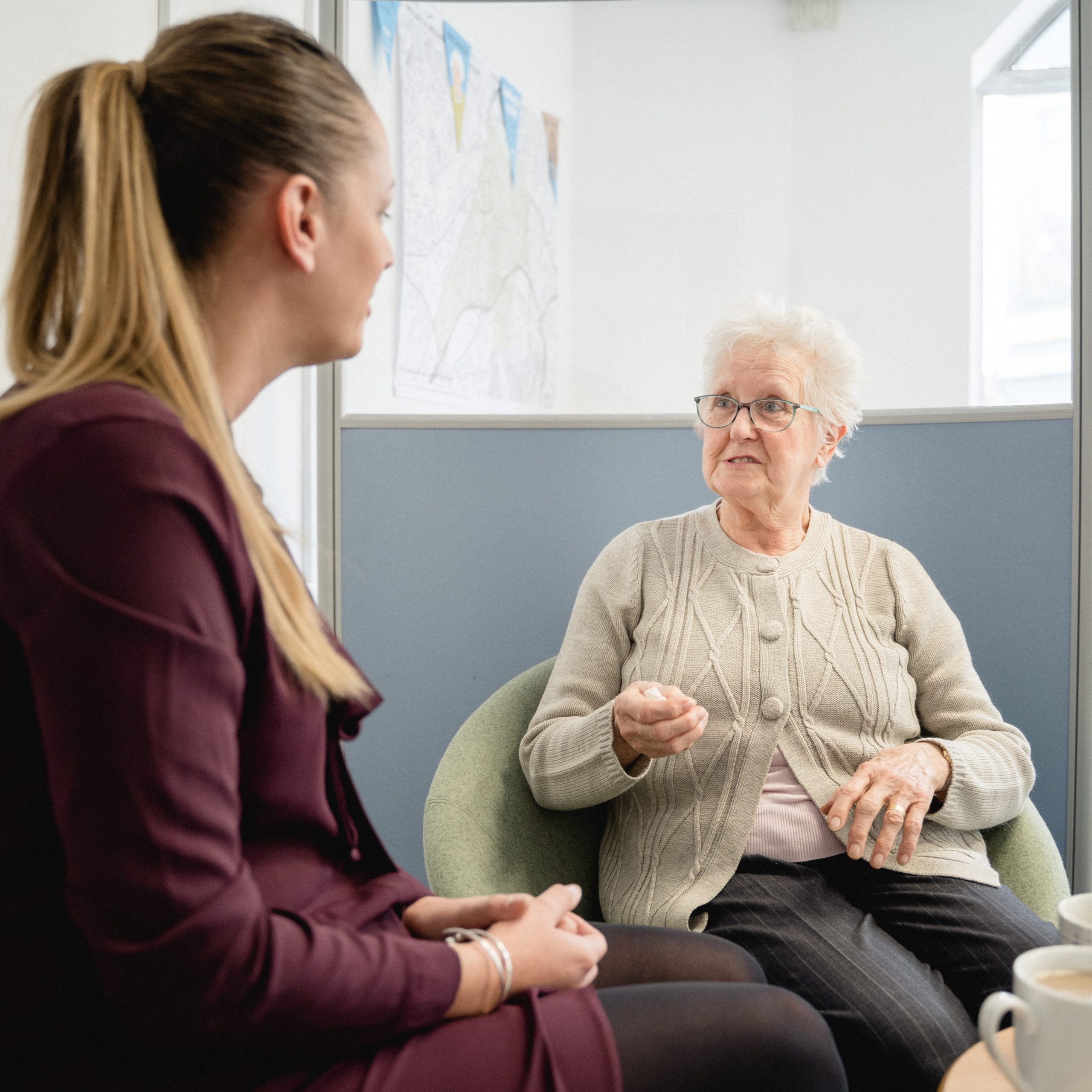 Despite receiving donated equipment from 100% Digital and trying to support clients to get online and use devices, not being able to help them face to face has been really challenging, and it hasn't been possible to hold groups or activities online in the same way. Claire says there are lots of clients who aren't interested in being online, or simply think "I'm too old for it!".
Digital presents a range of challenges for many people Holbeck Together supports, and is a big part of how outreach has changed during Claire's time at the organisation. "People are increasingly advised to look things up, or apply for jobs and things online. They're trying to cut out the middle man really, but we still get a lot of people who either can't do it themselves, or who don't have the equipment to do it. That's where I can help, supporting them to do it themselves and helping where needed."
Over the summer, the team had been starting to talk about doing some home visits again safely, but didn't have the chance before new restrictions were enforced. "This recent lockdown has been quite upsetting, as we'd just been able to get people together again in small groups, which was a big step forward." Nevertheless, Claire and the team have continued to support clients from afar, with the team working throughout. "We're really lucky we've been able to stay open and support people as we have. It's a very hands-on job, especially at the moment, but we've made the office covid-secure: you're up and down from your desk doing various things, and I couldn't do that from home."
Despite many challenges, demanding services and activities having to be delivered in a very different way, the outreach support Claire and the team has provided to date has resulted in an unbelievable:
3,427 wellbeing calls
in-depth, wrap-around, one-to-one outreach support 170 times
110 walking group attendances
33 one-to-one digital support sessions
1,472 wellbeing activity packs delivered to older clients and 579 to families. 
Claire reflects on a number of positives that have emerged during this time, including the opportunity to spend time supporting local families. "I've been a lot more involved with family support, for example the kids club we ran over the school holidays, so that has been great, and means I can support those families outreach-wise as well. The mums whose children came to the kids club have been so grateful for the support and everything we've done seems to have had a positive impact which is really rewarding."
Claire has also enjoyed a slightly different routine – with a lack of home visits meaning she has spent more time in the office with the rest of the team. "It's been really nice over the past few months to have a different perspective and see more of what everyone else gets up to, as well as more of what happens at St Matthews. We've all muddled in together and done different roles. It's been good to try new things and do some things a bit differently, and I definitely prefer to be busy!".
The generosity of local people and partners also stands out as an unexpected highlight of the pandemic. "We've been able to connect with businesses we wouldn't necessarily have been in touch with previously, with a big focus around meals, and lots of restaurants in town supporting us. Building stronger relationships with community partners has been a real positive – everyone has pulled through together."
In terms of the future, Claire is looking forward to the redevelopment of the space at St Matthews Community Centre, where the organisation holds many of its activities and events. "It's something that we've been passionate about since I started here, so I really hope that we're able to further develop the space for the benefit of the community. I hope we can continue forging community and business partnerships as well. There are lots of exciting things to plan, and new services we can hopefully set up."
Claire says her favourite thing about working for Holbeck Together is that "no day is the same and we never know what's going to happen. We see all sorts, but nothing surprises me anymore. I get great satisfaction from knowing that I've helped someone who needs some support. It's lovely to get positive feedback, and see people smile and be happy. You feel appreciated, and that you're doing it for a good reason." 
+++
About 'Holbeck Together: Our People' 
People are at the heart of our work: our clients, our volunteers, our staff and our partners.
When Covid-19 struck in March 2020, many felt their connection to others under threat. In a phenomenal outpouring of support for one another, the Holbeck community responded in kind. From keeping an eye on neighbours, to picking up shopping and prescriptions, to helping deliver hot meals to those shielding, everyone has played their part in what has been an outstanding team effort.
In this series we want to share some of these stories, to shine a light on the experiences of those who drive the work we do and make it all worthwhile – our people.
Look out for future blogs in the 'Our People' series. You can find out more about the services Holbeck Together is operating at the current time on the website here.
About Holbeck Together
Holbeck Together was established as a Neighbourhood Network Scheme in 1992 to support older people living in Holbeck. Drawing on these experiences and expertise, we now welcome people from all generations.
We provide a variety of services, activities and opportunities for people to get involved locally. Many activities are specifically for people in later years of living, others for younger people and some for all ages.