Holbeck Together: Our People – Ken
22nd March 2021
There is little doubt that the challenges presented by the Covid-19 pandemic over the past year have been extremely testing for much of our community in one way or another. For the older, frail and isolated people who are a core part of Holbeck Together's user group, the social distancing and lockdown rules have had particularly devastating effects. Many have found themselves adrift, without social contact and physical access to the services they would usually use to keep themselves happy and healthy.
In spite of this, the resolve and 'Keep Calm and Carry On' spirit shown by many of our older clients living in Holbeck has been inspiring. One such client is Ken, who is in his early 80s and has lived in Holbeck with his wife, Margaret, for 30 years. Although the Covid pandemic has been challenging and restrictive for the couple, Ken has been focused on supporting his wife, who has had to be careful due to being at risk. "If we need anything, I go out and get it, and only take her out to go to the hospital or the doctors. I'm just glad she's got me to look after her, although she likes to have her independence, which I like to encourage. I'm lucky that I keep reasonably well myself."
We know that it's not just people's physical health that has been affected by Covid-19. Ken has also seen that a lot of people have suffered with their mental health throughout the pandemic. "In our time, mental health was never mentioned and you didn't know what it was about, only physical health. There's a lot of pressure on young people, being out of school for example. Humans like physical, face-to-face contact – it's not the same being stuck at home."
By his own omission, Ken is not only physically healthy, but is also of sound mind, and speaking to him, it's clear he's absolutely right. "Hopefully I've led an interesting life up to now. It's great to be able to tell the stories from the 'mature' generation shall we say. I don't like to say old – you're as old as you feel." One such story, as Ken recalls, involves meeting his wife when he was on a last minute holiday to Tunisia in 1990. "I had a week's holiday left at the end of the year in November, so I took a spontaneous trip. We moved to Holbeck and that was 30 years ago last year. We got married at Gretna Green – we were on Radio 5 Live and Eddie the Eagle was there!"
Ken and his wife have been in touch with Holbeck Together for around six years. He remembers when the organisation, then called Holbeck Elderly Aid, was based at Gaitskell Court, a multi-story block of flats, with only a few team members. "We knew they existed before that but they were only small. I remember they then moved to an office on Balm Road where they had a bit more space, and I went along to try out some computers and get a feel for using them. The organisation has expanded a lot since then. They've done lots of things that are useful and they're really good at signposting. My wife has had problems with mobility and that, and they've signposted us to various agencies like adult social care."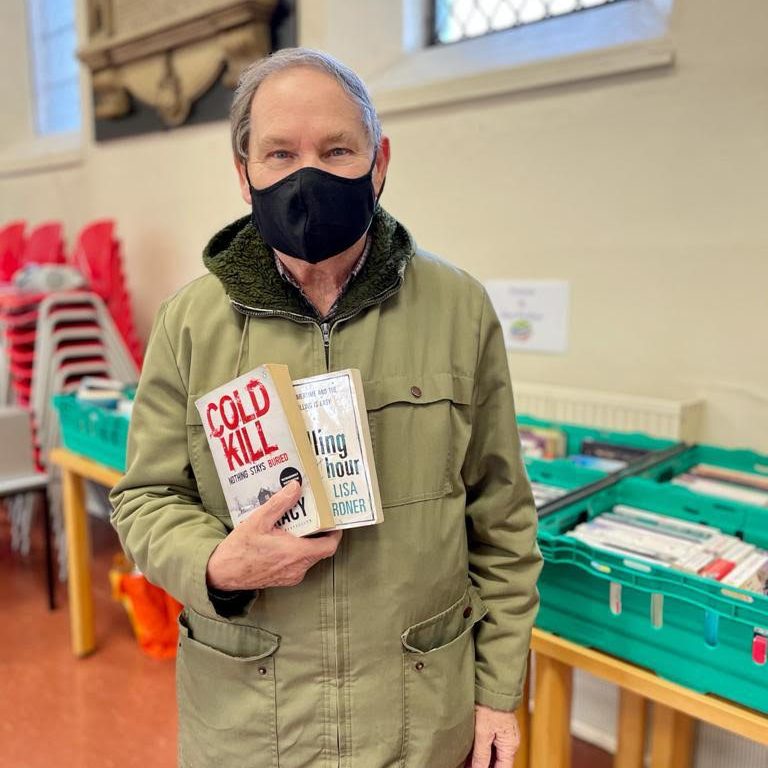 Before the Covid pandemic began and face-to-face activities were suspended, Ken has fond memories of attending walks and lunches, and most vividly recalls monthly mindfulness sessions hosted by Holbeck Together at various local venues. "It's about all the different things there are to appreciate like sounds, birds, things you take for granted when you're walking around the countryside or even city landscapes early in the morning. Mindfulness is involved in all sorts of areas. Once they brought in pieces of chocolate and asked us to notice how it smells and tastes and really appreciate it."
He and his wife also used to enjoy joining yoga sessions arranged by Holbeck Together. Ken said, "You don't need to be a fitness fanatic or really energetic – anybody could join it. It's very relaxing, and good for the mind – to focus on the different positions you can stretch yourself into." The couple also went along to monthly Sunday lunches alongside friends, which are now delivered to their doorstep due to ongoing restrictions. "Holbeck Together has been helpful, they keep in contact by the phone and will get anything for us if we need it. Even if we wanted a lift to the doctors or somewhere, Roy would help. He's very good."
The switch to digital communication has arguably been one of the biggest adjustments people have been faced with over the past year. Ken and Margaret have received an iPad through a Leeds City Council scheme to help them to stay connected. "I haven't had a chance to open it yet but I'll have a dabble. It's a useful thing for making contact with people – you can talk to anyone in America or Australia or anywhere in the world with just a couple of buttons. And Google whatever you want to know – just like a digital dictionary! Most older people feel strange with it at times – we like to see hard copies and factual things in front of us you see, so it's hard to understand how these things can be done in a digital format. I'll have a go – I know I can't break it!"
Soon Holbeck Together will also be lending Ken a smart phone so he can be further connected and also continue to enhance his digital skills. Ken's first challenge might be to connect with his family who are spread across the UK, including a number of grandchildren, who the couple haven't seen since the end of 2019. "We last saw them for a family Christmas lunch to celebrate Margaret's 90th birthday. We've been in contact over the phone, but it's not the same. It's something to look forward to – Margaret likes to see her grandchildren."
Having settled in Holbeck by chance, Ken likes its convenient position, and access to facilities. The couple live in a quiet cul-de-dac and there's a good community spirit. Ken most enjoys spending time in his garden when the weather's fine. "That's quite nice, you feel a bit more relaxed and it gives you a bit of physical exercise. I like to keep fit – your body's like an engine and if you don't move, it seizes up!" Ken does lots of walking and strengthening exercises, recently providing support to Margaret who broke her hip a couple of months ago.
The couple are most looking forward to "breaking the ice a bit" when the pandemic is over. "We want to get out and do the things we want to do without restrictions. You feel like life is passing you by but you're handcuffed to your house. We know it's necessary though – we haven't caught the virus yet and we don't want to." When it's safe to do so, Ken has high hopes for a holiday somewhere a bit warmer. "I'd go somewhere like Spain or Portugal, not too far away, as long as it's Covid-secure. You can't take a chance with the virus being around and they don't seem as well advanced on vaccines as we are. I've got my fingers crossed". And so have all of us at Holbeck Together.
+++
About 'Holbeck Together: Our People'
People are at the heart of our work: our clients, our volunteers, our staff and our partners.
When Covid-19 struck in March 2020, many felt their connection to others under threat. In a phenomenal outpouring of support for one another, the Holbeck community responded in kind. From keeping an eye on neighbours, to picking up shopping and prescriptions, to helping deliver hot meals to those shielding, everyone has played their part in what has been an outstanding team effort.
In this series we want to share some of these stories, to shine a light on the experiences of those who drive the work we do and make it all worthwhile – our people.
Look out for future blogs in the 'Our People' series. You can find out more about the services Holbeck Together is operating at the current time on the website here. Find out all about our journey through lockdown and beyond in more detail by reading our Anchoring a Community Report.
About Holbeck Together
Holbeck Together was established as a Neighbourhood Network Scheme in 1992 to support older people living in Holbeck. Drawing on these experiences and expertise, we now welcome people from all generations.
We provide a variety of services, activities and opportunities for people to get involved locally. Many activities are specifically for people in later years of living, others for younger people and some for all ages.