True North: Stories of Holbeck – Audrey
6th October 2020
AUDREY HARDY – 90, HOLBECK TOGETHER CLIENT AND LOCAL RESIDENT
I've lived in Holbeck for 82 years. We moved up to Leeds when I was two because of the war and never left! The house I lived in was my parents and when my mother was unwell, I cared for her in the house.
There were really old cottages where the flats are now, some buildings have gone and others appeared and in Elland Road there was a dog track there opposite the football ground and it's now the police station.
There were little shops at the end of every street. But of course when the motorway came it changed everything. Streets were shortened – two were pulled down on Baron Close. There was a lot of upset about it. There were other streets that went down and you could walk down into Holbeck.
All of the Tillburys and Colensos – all those streets had a shop at the top and the bottom. You could just pop out, if you ran out of anything. There was the picture house that we all went to, and another at the bottom of Domestic Street – The Gainsborough, and another on Jack Lane – the Queens – they were everywhere, before everyone had TVs.
Elland Road and Beeston Road ran into each other and connected with Dewsbury Road. There was a pub where each of them connected.
The Siege of Baron Close – there was nowhere to walk, mud everywhere. Originally they said the new motorway would be access only to Baron Close and a bus route. But obviously that changed during the project – the usual promises.
A friend of mine told me about HEA and eventually I came and joined the bowls team. It was a lovely group – Maureen and Mavis, and Pat and Howard.
I'm lucky with my house, you don't get gardens that size anymore. My sister died about two years ago, and the last time she came over she looked out and said – yours isn't like a garden, it's like a park with all the trees!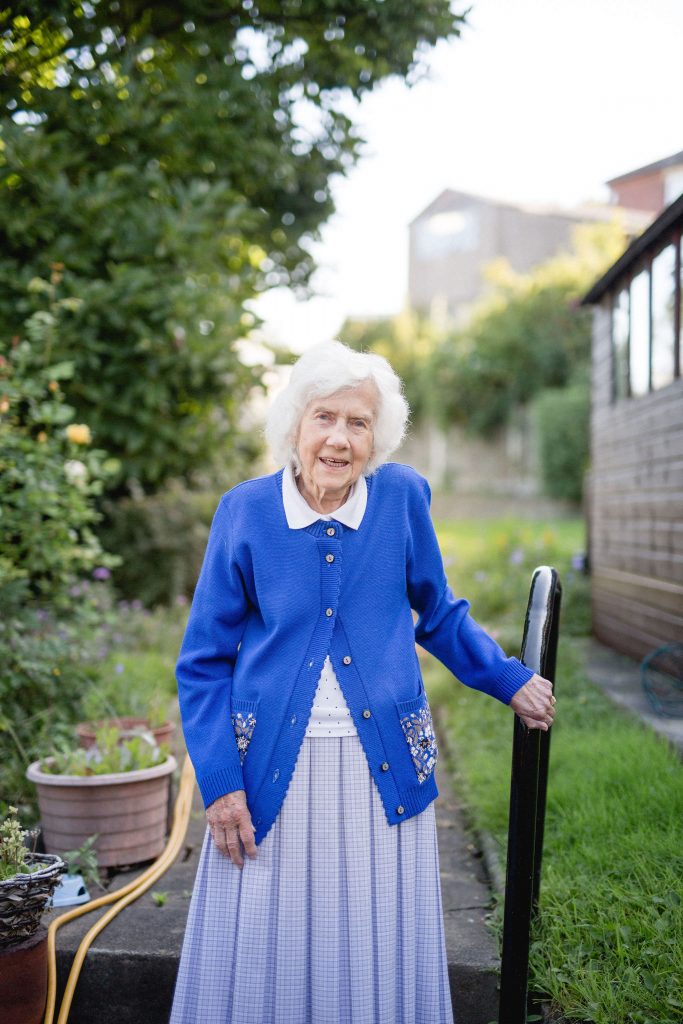 I got the gardening bug from my mum and my dad, both of them came from different parts – my dad from Bedfordshire and my mum from Northamptonshire. They were both country people and had a passion for gardening.
My father died in 1962, and my mum would have been 90 a couple of weeks after he died. I cared for my mum for a long time, but that's what you did isn't it. We had a ramp into the back garden so that I could still take her out into the garden.
I've been looking for a gardner for years and finally found one, who's helping me get it under control again. We've got a magnolia tree which my mum planted, to be honest I think it's two trees that have grown up together, but that was my mum, she always overdid things.
Those were the days!
+++
About True North: Stories of Holbeck
True North is a collaborative project between local people, Holbeck Together, and our friends at Northern Monk Brewery, which celebrates the rich tapestry of life in Holbeck, once the epicentre of the industrial revolution.
In this blog series, we bring you the stories of the members of the Holbeck community we invited to be part of our 2020 True North calendar. You can read more about the project here.
Drawing on over 27 years of experience working in Holbeck focusing on people in later years of living, Holbeck Together's doors are now open to the whole community. Holbeck Together supports people of all ages, providing advice and advocacy services, social activities and transport options.
Working collaboratively is central to our ethos and we believe that real social change is achieved when local people, groups, organisations and businesses work together. Our partnership with Northern Monk Brewery is a fantastic example of what can be achieved when businesses and voluntary organisations work together and pool resources to achieve a shared goal.
Photography featured throughout is by Mark Newton Photography.